Short to Long term Hire Accommodation: We have a range of medium to large Caravans for temporary accommodation. This is representative of age, condition and style- just one of the ten or so we currently have on our onsite fleet. 
New photos coming soon of our other Onsite hire Vans.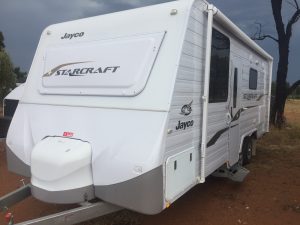 Information for the hiring of an Onsite Caravan:
All hires are a have a set start and finish date –
NOTE : $ x per week relates a to minimum of 12 weeks from date of delivery. Price on application, hire terms can be negotiable for short term hire 4 – 12 weeks.
At the end of the hire you MUST give us two weeks notice to continue or we assume the caravan agreement will be ending.
There is $500 security bond.
No smoking allowed in caravans.
Caravans are delivered to your site, it is a hire condition that the site is mostly flat, level with good, clear access both in and out gates /fencing and trees etc.
$55 per hour to set up on difficult sites.
Delivery to your site is based on minimum price and or price per km and/or hourly rate. 
Hire Caravans must not be moved from the site we deliver too at the start of the hire as the caravans are not insured for hirer to tow.
We have other caravans available if you plan on towing the caravan.
Dubbo caravan Hire will arrange re location if required and a towing charge will be incurred.
It is Hirer's responsibility to check the relevant council regulations.
As per our standard terms and conditions ;
There is No presumption of tenancy .
The Bond -$500 security bond is returned at the end of the hire to the person whose name is on the hire agreement when the caravan returns clean and undamaged.
The Bond returns are usually processed within one week .
The hire of the caravan does not give the hirer the right to purchase the caravan.
The caravans are available furnished or unfurnished, excluding fixtures which cannot be removed.
Furniture is optional extra and a sanitising fee may apply for mattresses, cushions and or foam bedding.
They can only be booked if in our hire yard and we have limited ability to book EXACT ONSITE caravans in advance. 
Full terms and conditions can be supplied on request.
Other hire vans are available and additional models are being added to our fleet each month. Prices on application.