Welcome to Kookaburra Caravans Hire, Sales and Service & Repairs.
Do you need your caravan repaired due to the recent storm and hail – our tradesmen have over 35 years experience in caravan repairs and servicing.
Start planning your escape !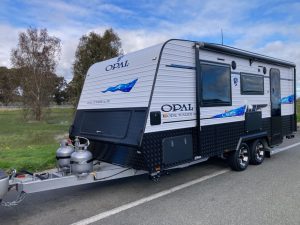 Not sure what van to buy?
Then why not TRY BEFORE YOU BUY*.
As Kookaburra Caravans operated the largest caravan hire fleet business in Sydney for 20 years and have over 35 years personal experience in the caravan hire industry.
Dubbo Caravan Hire and Sales has new and current model Caravans for touring holiday hire.
Buying a new recreational vehicle can be an expensive and complex decision so it is also a great idea for those wanting to "Try before you buy".
Our fleet is constantly being updated and we have a range to suit most people including first time caravanners.
Touring Caravan Hire: Select from our York and Olympic range – The Bell, The Fitzroy and The Hawkesbury
Our new OPAL caravans are listed under Vans for Sale.
New and Late models available to suit most vehicles.
Most caravans have reverse cycle air conditioning, rollout awnings, solar panels & batteries and TV.
Dubbo Caravan Hire and Sales also has a large range of caravans 20ft to 23ft for accommodation on your own site for medium to long term [live in] accommodation.
We also specialise in Short term stationary hire: If it's extra space for visitors you're after or if you're attending a festival, sporting event, community or church conference we can help you. We deliver the hire caravan to your site at the venue.
Australia's great outdoors has so much to offer singles, couples, and families – everyone who has ever wanted to explore the endless natural beauty of this nation.
In a caravan it is right on your doorstep because caravan parks and camping areas access the most beautiful spots in the nation.
We have recently moved to second location please call for details.
*NB: "Try before you buy" option is available on "Olympic" and "York" vans and selected new Opal and used vans.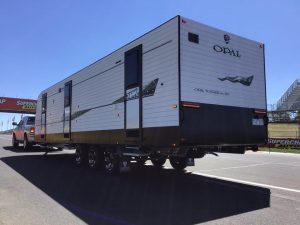 Save
Save
Save
Save